Home

/

Pacer® Chemical Wall Chart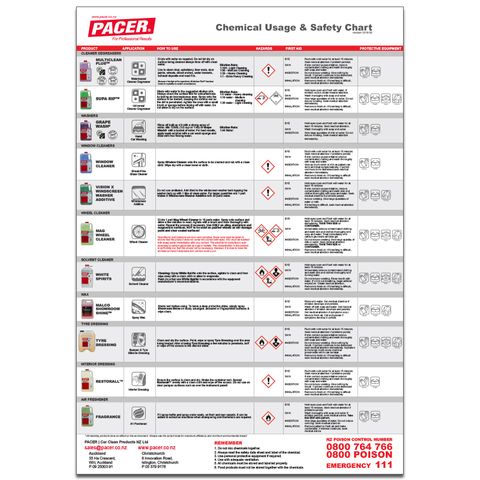 Pacer® Chemical Wall Chart
Description
• This is a standard A3 wall chart for Pacer chemicals that includes the following chemicals:
> Multiclean Plus
> Supa Rip
> Grape Wash
> Window Cleaner
> Windscreen Washer Additive
> Mag Wheel Cleaner
> White Spirits
> Malco Showroom Shine
> Tyre Dressing
> Restorall
> Fragrance

• If you would prefer to print this wall chart yourself, please get in touch by calling 09 25000 91 or email sales@pacer.co.nz and we will email you a printable pdf copy at no charge.
• A great health and safety guide for you and your employees.
• If you prefer to have customized PDF wall chart of the chemicals that you use, please do not hesitate to let us know by calling 09 25000 91, emailing sales@pacer.co.nz or through your local Pacer Sales Representative.
Downloads