Home

/

Air

/

GREEN RHINO® ODOUR ELIMINATOR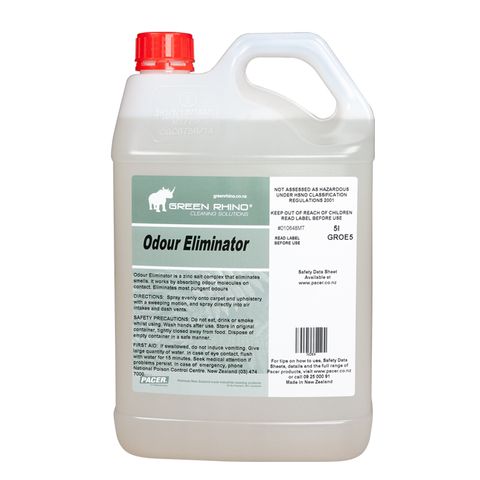 GREEN RHINO® ODOUR ELIMINATOR
Description
Green Rhino Odour Eliminator has a special formulation that neutralises any existing odours by trapping and absorbing odour molecules on contact. It is a highly effective against a wide range of odours caused by food waste, smoke, faeces and more. It Ideal for dumpsters, waste compactors, rubbish bins, food processing waste areas, and more.

Benefits:
• Highly effective on a wide range of odours caused by food waste, smoke, faeces and more
• Ready to use, just spray and leave
• Safe to use on hard and soft washable surfaces
• New Zealand made & owned

Ideal for:
• Rubbish bins, dumpsters, refutes and more
• Washrooms, toilets, urinals, bathrooms
• Receptions, lifts, stairwells, carparks
• Lunchrooms, cafes

Industries:
• Hospitality – hotels, motels, holiday parks, resorts, casinos, pubs, restaurants and cafes, entertainment venues and function venues
• Education – daycare centres, schools, colleges and universities
• General retail spaces – offices and shopping centres, gyms
• Manufacturing and warehouses
• Health – hospitals, medical centres, rest homes / aged care centres

How to use:
For rubbish bins: Spray neat into the bin and leave. Do not rinse off. For carpet and upholstery: Lightly spray onto the surfaces after cleaning.

Allow the product to dwell on the surface. Ensure the odour source has been removed before application. If odours continue, a second more thorough treatment may be required. Always test in an inconspicuous area first.